RV Rentals

Las Vegas RV Rentals
by Elizabeth Morgan

Nevada is home to the Pony Express, cowboys, pioneers, and, of course, Las Vegas. Perhaps the easiest way to see all of Nevada that interests you is to rent an RV and tour the state how, when, and wherever you like.

The most frequently rented RV is the class-C motor home. It's easy to drive and has many of the comforts of home -- beds, a toilet, shower, heat and air-conditioning, a refrigerator and a microwave. Some even come with a TV and a DVD player. Other popular options include a truck trailer, folding camp trailer, or travel trailer.

Las Vegas is an easy city to start your adventure because there are many RV rental agencies. The Las Vegas RV rental off-season is between the start of November and the end of March. This is when you'll get the cheapest rental prices, with prices starting around $65 a day for 40 days for a simple RV. The longer you rent an RV, the cheaper the price. Prices are the highest between the end of June and the start of September. The cheapest day rate available is probably $117 for 40 days.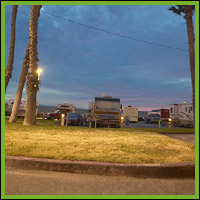 One neat RV diversion available around Las Vegas is geocaching, a high-tech treasure hunt. To geocache you need a sense of adventure, a little luck, and a GPS to help you find the cache--hidden goodies left for explorers like you. Find a cache welcoming you to Nevada at N 35° 36.562 W 115° 23.364.

The Nevada Commission on Tourism's Web site has a searchable map of RV parks in Nevada. It is one of the best places to start planning your trip.

Before you rent, comparison-shop. Be sure to ask about extra fees like insurance, mileage or cleaning. Planning ahead means more fun on the road.

About the Author

RV Rentals Info provides detailed information about RV rentals in the United States, focusing on California, Alaska, Utah, Texas, Florida, Arizona, Minnesota, and Las Vegas, Nevada, as well as discount RV rentals, and more. RV Rentals Info is the sister site of RV Insurance Web.